China RongzhongAnnounces Proposed Listing on the Main Board of Hong Kong Stock Exchange Offer Price Sets Between HK$2.11to HK$2.48per Share To Raise Gross Proceedsup to HK$248Million
Time:2016-01-18The Article Source:Porda Havas InternatViewed:4292
China RongzhongAnnounces Proposed Listing on the Main Board of Hong Kong Stock Exchange Offer Price Sets Between HK$2.11to HK$2.48per Share To Raise Gross Proceedsup to HK$248Million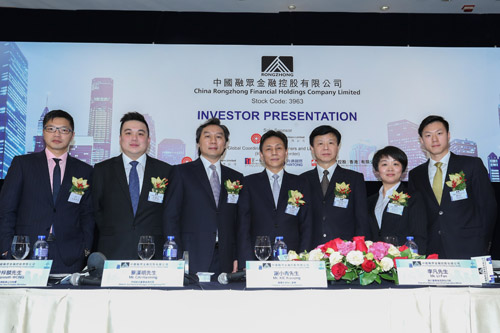 Taking Advantage of Middle China Development Plan and Unique Position
Focusing on the Financing Needs of SMEs
Striving to Become theLeading Finance Leasing Company in Hubei Province and China
(17 January 2016,Hong Kong)The leading finance leasing company in Hubei Province──China Rongzhong Financial Holdings Company Limited( "China Rongzhong"or "Company", together with its subsidiaries, the "Group", stock code: 3963),today announces the proposed listing of its shares on the Main Board of The Stock Exchange of Hong Kong Limited ("SEHK").
China Rongzhongplans to offer an aggregate of100,000,000Shares (subject toadjustment and the Over-allotment Option) under the Global Offering, of which 90% are International Placing Shares (subject to adjustmentand the Over-allotment Option) and 10% are Hong Kong Public Offer Shares (subject to adjustment)at an offer price ranging between HK$2.11per Share and HK$2.48per Share. The Hong Kong Public Offering will open at 9:00 am on 18 January 2016 (Monday) and close at 12:00 noon on 21 January2016 (Thursday). Dealings in Shares on the SEHK are expected to commence on 28 January,2016 (Thursday)with the stock code 3963. The Share will bein board lot of 1,000 Shares each. There is an Over-allotment Option to increase an aggregate of 15,000,000 additional Shares.
Alliance Capital Partners Limited is the Sole Sponsor; Alliance Capital Partners Limited, First Shanghai Securities Limited, Haitong International Securities Company Limited and Huatai Financial Holdings(Hong Kong) Limited are the Joint Global Coordinators, Bookrunners and Lead Managers.
China Rongzhongis a leading finance leasing company in Hubei Province with the longest operating history among Hubei-based finance leasing companies. As at December31, 2014, the Group was ranked first with total assets worth RMB1.73 billion. Since its establishment in 2008, the Group has focused and will continue to focus on the financing needs of SMEs in Wuhan and other parts of Hubei Province. As Wuhan and Hubei Province are the regional hub of Middle China, the Group is positioned to take advantage of the opportunities created by the PRC Government's plan to develop Middle China.
According to Euromonitor International's industry report, finance leasing is recognized as the second largest financial tool in many developed countries. The investment penetration rate of the U.S. finance leasing industry was 22%, much higher than China's 3.1%. However, China's finance leasing industry is in the initial development stage and it has great potential for rapid growth in the coming years, and it is expected to be fuelled by the increasing demand from SMEs, pillar industries' attractiveness, and the growing number of construction companies to target finance leasing market. According to the National Small Micro Enterprises Development Report, published by the SAIC in 2014, there were approximately 11.7 million registered SMEs in China in 2013 that accounted for 76.6% of total registered enterprises in China. Since SMEs in key industries have had continuous financing needs unmet by traditional sources of financing, they will continue to have demand for finance leases and there will be a huge room of development for finance leasing industry. Besides, the PRC and Hubei Province governments have always been trying to find financing solutions for SMEs, which isa tremendous opportunity to finance the growth and development of SMEs.
With establishment in Wuhan and Hubei Province, the Group has developed unparalleled knowledge about the region's economic growth patterns and economic policies. Supported by established reputation and years of experience of the Group, the future development of Middle China will provide the Group with many potential business opportunities. In April 2015, the PRC government adopted the Plan for the City Cluster along the Middle Reaches of the Yangtze River(the "Middle China Development Plan"),which is an important and strategic measure for the greater economic development of the China to promote the economic development of Middle China and to stabilize long-term growth in China.Yangtze River Economic BeltIndustrial Fund, one of the world's largest industrial funds, was established on 30th December, 2015 in Wuhan, Hubei. 40 billion RMB has been invested as the guiding fund to initiate the establishment of Hubei Yangtze River Economic Belt Industrial Fund with a scale of 200 billion RMB. It aims to promote the strategic development of emerging industries and transform and upgrade traditional industries in Hubei Province.The Group willbenefit from a lot of focus and resources on the development and advancement of thebusinesses and industries located in Hubei Province in the long run.
Mr. XIE Xiaoqing, Chairman and Executive Director of China Rongzhong Financial Holdings Company Limited, indicated: "Despite the slow-down of China's economy growth in general, the Grouphas been ableto continue to increase therevenue and finance leases receivable, and has achieved leading status in a series of major operational indicators for finance leasing companies in Hubei Province.We employ a prudent and conservative strategy and continue to grow the finance leases receivable by entering into additional leases and/or renewal of leases with our existing customers upon completion of the original leases. With innovative finance leasing products, the Group has grown and developed its business and industry reputation. Besides, theGroup has built collaborative relationships with the Wuhan government as well asother local governments in Hubei Province, which enabled us toexpand our business operation and seize market opportunities while supporting local economic development at thesame time."
As the leader in the finance leasing industry in Hubei Province with an established reputation, the Group owns a diversified customer base. The Group has also developed knowledge and experience in meeting the financing needs of certain key industries in Hubei Province, includingthe first target industry of the Group -- laser processing,and other strong and developing industries in Hubei Province such as plastics, industrial processing, textile and garments and hotel and leisure. Besides, the Group has been actively taking steps to enter into the transportation (cars and aircraft), medical device and education device industries with growth potential. The aviation division is established in 2015 to explore potential business of leasing of aircrafts, aircraft motors and other aircraft related equipment and new energy vehicles leasing.
The finance leasing business of the Groupcan be divided into two models, namely the sale-leaseback and the direct finance lease. Sale-leaseback is primarily used by the customers who need working capital, while direct finance leasing is mainly used when the customers commence new projects, expand production, make advancements in technology and have finance demands to purchase new equipment. The Group also provides advisory services (as a value added service) in conjunction with finance leases business to existing and potential customers. As at July 31, 2015, the revenue of sale-leaseback accounted for 95.1% of the total revenue of finance leasing business, while direct finance leasing was 4.9%.
The Group has significant potential for growth and its development is supported by the availability of stable financing sources. The Group strives to diversify its financing sources and fund the business principally through bank borrowings from different banks, including a state-owned policy bank, state-owned commercial banks, national commercial banks and the head office of a regional commercial bank. Because of its strong capital strength, capability, and reputation, the Groupkeeps close collaborative relationships with thesebanks. The capital leverage of the Groupis currently at a healthy level of four times of its registered capital, which is significantly lower than other market participants.
Meanwhile, the Grouppossesses strong risk management capabilities and has adopted measures andmethods that further diversify and mitigate risks.The Grouphas established a three level risk management structure comprised of the risk management department, project review committee and risk management committee.The Groupalso maintains a high caliber of business and risk control professionalsincluding PRC registered valuators, accountants, lawyers and experienced risk reviewofficers.
Besides, the strong corporate shareholders ofthe Group help to establish high corporate governance standards. The shareholders of China Rongzhong include Goldbond Group Holdings Limited (stock code 0172), a Hong Kong listed investment holding company and Hony Capital Fund 2008, L.P., a leading private equity firm in China.Even though the SME finance leasing issubject to less formal regulation in China, these shareholders have continuallymaintained the importance of establishing a strong set of corporate governancestandards for the Group. The Group relies upon the guidance of its controlling shareholders to followsteady and healthy growth strategies.
Mr. XIE Xiaoqing concludes: "China Rongzhong strives to become the leading finance leasing company serving SMEs in Hubei Province and other locations in China. To achieve the goal, the Groupintends to continue growing and expand the financial services significantly in the next several years. The Groupalso plans to selectively expand the business into other cities in China with dynamics similar to Hubei Province. Meanwhile, the Groupwill continue to expand the client base in industries with growth potential and continue to provide innovative finance leasing products and services. We will continue to enhance our risk management capabilities, strengthen our status as the leading finance leasing company in Hubei Province, and to maximize the value to our shareholders."
Issued by Porda Havas International Finance Communications Group for and on behalf of China Rongzhong Financial Holdings Company Limited.
prev:Trading Debut on the Main Board of SEHK
next:Leaders of Department of Commerce of Hubei Province and Shaanxi Province Doing Research in RZ
Top